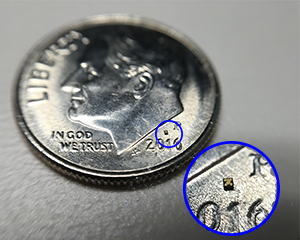 Orlando, FL (February 12, 2016) - SawStreet® continues to add more capability after moving into its new headquarters. SawStreet® has installed an ASM high speed die sorter to handle high volume requirements where die need to be picked to either Gel-Pak®, film frame or to hoops. The system is a PC controlled for sorting die from a mapped wafer to specific output bins.. The system is modularly designed with component modules including a Direct Drive Rotary bond head with 180 o theta rotation, an input X/Y tablefor the wafer, an X/Y table for output binning, a CCD TV targeting system with zoom lenses and a built-in pattern recognition system.
The system easily handles die that are 250um x 250um in size as well as larger die sizes. Included with the system is some limited automatic Inspection capability. The picture to the left shows a 250um x 250um die in comparison with a dime.
About SawStreet®
SawStreet® is a privately owned quick turn semiconductor backend service provider founded in 2008. SawStreet's services include grinding, dicing, pick & place, and inspection. SawStreet is dedicated to providing the highest quality service and finding unique solutions to customer's more demanding requirements. SawStreet's Silicon Valley experience in both semiconductor and backend services gives them unique insights into what is required to provide high quality, quick turn services to an industry where time to market issues are critical.
SawStreet® specializes in working on products for the microwave and millimeter wave market. This requires working with GaAs, InP, GaN/SiC substrates that may be as thin as 50 microns and semiconductor circuits no larger than 250 x 250 microns. Our services support a range of products used in the cellular, satellite, medical and security markets. The first major product that we supported was semiconductor chips for the millimeter wave body scanners now in use in our airports.
SawStreet® continues to innovate in the services it provides and continually works to further develop the software required to provide better services for our customers.