Dicing
No matter how unique your dicing requirements may be, SawStreet can create a custom wafer, substrate or reticle dicing solution to fit your needs. SawStreet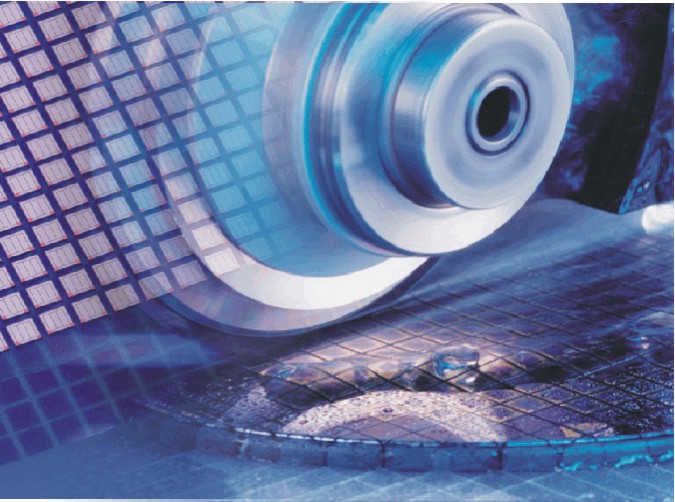 can handle wafers up to 300 mm in its class 100 clean room. If you don't have a complete wafer, no problem. Sawstreet receives substrates or wafers in many forms including complete wafers, broken or cracked wafers, or reticles.
We have a broad range of experience with Silicon, GaAs, GaN, SiGe, InP, ceramic, and glass just to name a few and we handle thicknesses as low as .002" or 50 microns.
Knowing that the dicing process sets the stage for all subsequent operations, we will work closely with your engineers to fully understand what you see as the critical issues and match them with our experience and precision dicing capability. Whether you have partial wafers, broken wafers, "pizza mask" wafers, reticles or complete wafers, no job is too small. Let SawStreet manage your dicing needs and see why leading defense, medical, and commercial manufacturers trust their wafers to SawStreet.
Dicing Primer:
After wafer processing, a wafer can have thousands of die on the wafer that need to be singulated (separated). The two main forms of die singulation are scribe and break and mechanical sawing. There are other forms of singulation but these two have been the prime methods for singulating die. SawStreet uses a mechanical dicing process which gives us the flexibility to handle a wide variety of substates, substrate thicknesses and die sizes. In order to prepare a wafer for dicing SawStreet will need basic information about the wafer (or substrate).
Substrate (Wafer) size,
Thickness,
Substrate material,
Whether there is metal on the backside of the wafer and if so whether this metal is patterned
Width of the saw street
die size(s) (indexes) and what is the width of the saw street.
Once we have this information we will be able to develop a process to meet your needs.
The wafer will need to be mounted on tape which could be a UV release tape or non-UV release tape. Dicing tape has a sticky backing that holds the wafer in place during dicing. There are a wide variety of tapes from many manufacturers. SawStreet has standardized on three different tapes (noted in the "Tech Snapshot") which means these are the tapes we constandly stock. We do have other tapes we use that are specific to other customer requirements. So if you need a special tape, then we can order the tape for you. SawStreet uses more UV tape then non-UV tape. Non-UV tape is used typically for larger die or die that needs to be stored on tape for an extended period. Since SawStreet typically dices and does die sorting (pick and place) for our customers, we prefer to use UV since it can handle the smaller die that we process and provides us more flexibility.
The picture to the right shows a 200mm (8") diamter wafer mounted on tape (attached to a metal frame) about to be loaded into a dicer. Dicing machines (Dicers) are extremely precise and dicing is a computer controlled process. The sawstreet (width between die) normally range between 50um to 100um although this certainly can vary based on the application. During the dicing process, the machine is programmed to stop at prescribed intervals to allow the operator to check the processing. SawStreet has an 18MOhm DI/RO water system. During the dicing process, a stream of deonized water runs over the wafer.
After dicing is completed, the operator inspects the wafer before any other step in the process is taken.